We have had a visitor to No.23. It started with my husband, I blame him entirely. For two days he was so ill that he took himself to bed (very rare), he
went to the doctors the following Monday
"Ive got the lurgy" he jokingly said. "Yeap" agreed the doctor and hes been off work since.
The next day, Tuesday I went out for the day with my two crafting
friends
, this time we were heading to the Quilt Museum in York. There was a very bitter wind, and dispite the good company I did not have a good day as hoped," I was nithered all day, and later came down with the lurgy. Now I dont get colds like "normal folk" suffering with my sinus' . But for the first time in about 10 years I actually needed to blow my nose, I cannot say Ive missed that one! Any way enough of that more of the quilt museum....
The Museum, yet another beautiful building, sadly no photos were allowed of the quilts.
The Exhibition was "Decline and Revival" in the 20th century
showing how patchworking declined during the 1st and 2nd world wars, due to the hardship. There was a delightful suffolk puff blanket made from every type of available fabric scraped together during the second world war, that I liked.
After the war patchworking declined due to the competition of
manufacturing. It wasnt until 1960's the revival began. Alot of reference was made to
Averil Colby.
It looks like she produced quilts by carefully selecting certain patterns in the fabrics, creating patterns with a pattern, a more wasteful way to how quilting was originally done. There was also some lovely examples of Italian quilting and quilting.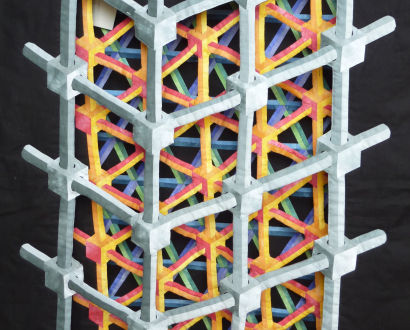 The above is at the end of the revival. It was 3 dimensional in layers, we all liked this one, very clever. My personal favourite that inspired me was
daphnes show and tell
it was fun and alot of different techniques, I particularly like the descriptions of the characters, Which one are you?
So what else has been happening. Weve been in the gardening tidying up and moving logs, this Summer we are tackling the top end of the garden and reorganising the sheds. I cant wait to get out there now the snow has lifted.
On my last post I mentioned my ebay purchase. I was so excited, Id hoped to show you pictures (sadly the pic above is not mine) mine is in a box slowly heading for the nearest dustbin. I accepted it knowing it wasnt working. The seller stated it should cost about £10 to put it right. I could have bought one in working order and it could have broken a few weeks down the line, so I thought it was worth the gamble. These machines are 40+ years old. We noticed a loose connection and hoped that was the problem. Plugged it in, it went up in smoke. We think the motor has gone.
A friend is going to have a look at it to see if its worth repairing. That was my 3rd Ebay disaster in a row. They say things come in threes.