Its a while since I blogged, I lost my blogging voice, life's like that sometimes. I have however still been popping in and seeing some great posts with marvellous makes.
I finally finished hubby's trousers, a recap Kwik Sew 3267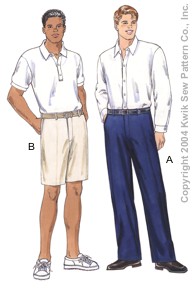 they are made from vintage wool suiting, a bargain £3.00 buy, the quality shows through as they hang beautifully.
All that worrying about the pockets are hardly noticeable

I had been waiting patiently for him to try them on for a fitting (did I just type patiently). Anyway I decided I would just make them up as it was holding me up. I'm one of those people that cannot start a new project unless the current one is finished. So I completed them, he finally tried them, loved them, but they were far too baggy in the leg for him. So I slimmed the leg, re-hemmed, and now we are both happy with them. He would like me to sew the welts down, something I omitted, wasn't reading the pattern there!! He was so pleased he asked for a 'from No.23' logo to be sewn on the front.
I bought on Ebay a lucky dip bag of bankrupt stock Coats sewing cotton threads 50 threads for £5.00 plus delivery (no longer available)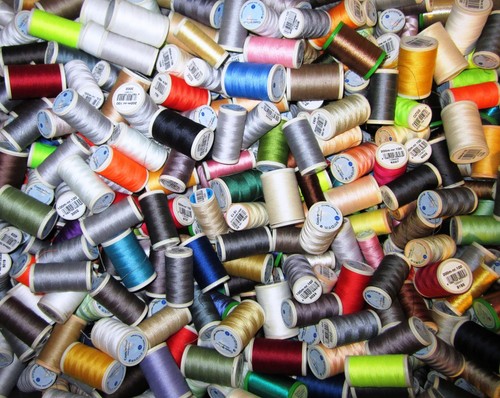 I haven't had a Lucky Bag since I was a child, I have to say I was just as excited as back then. I wasn't disappointed, there were 100% cottons, general sewing threads, strong threads and also embroidery threads, only 2 duplicates, 52 threads in all. prices ranging from £1.60 - £3.00 per reel estimated value £85.00 This prompted me to sort my sewing notions out, with the help of my pattern review book for those interested
Here is what I did:-
my actual pattern are stored numerically in a box under the bed (I dont know why I havent sorted them numerically before, maybe because I only have about 30 patterns, this is great for putting straggler pattern pieces away) at the moment this system works well for me.
The pattern sleeve I have put into a file sorted into catagories dresses, seperates etc
My cotton reels I keep in boxes and vintage tins, these were all sorted and labelled, my spools I keep in purpose made boxes but I have numbered them with sticky backed paper so matching them up is now a lot easier.
I also did a rough inventory of my uncut fabrics. I keep
this in a sleeve with my patterns folder. This I have found the most beneficial for me. My memory is appalling so its great having this with my patterns so I can easily put A with B.
My trims, I have wound onto cardboard which is tons better, no more tangled messes and space saving.
I really enjoyed this, I would love to be able to catalogue them on the computer, but we don't have windows and I have yet to find a suitable compatible programme for our computer.
My next project, I recently I bought this piece of fabric
the colours drew me instantly to it, though on hindsight it is a little busy. I am going to cut it up today to make a skirt for summer (I believe summer has finally arrived, even though the spring bulbs are just blooming.)
Im not sure yet how I will make it up yet, I'm thinking a straight skirt but I would like to add this blue grosgrain which matches up beautifully, I may just take a skirt from one of my existing dress patterns maybe this one, Vogue 8667.
Last week I helped my friend organise a Cake Break Fund Raising event, in our local town, proceeds in aid of MS Society, there was cakes and a few craft stalls. One of the stall holders was Sally whose blog I follow. It is quite
bizarre actually meeting a fellow blogger for the first time. Sally had some great pieces of work on her table, a very clever lady, I came away with a lovely pincushion and badge she had made. It was nice to meet her.
Lastly I am road testing my sons camera, more advanced than my own, I'm thinking of upgrading. Has anyone noticed an improvement in the picture quality.

Happy Crafting

.