Okay. Pop the kettle on settle down and enjoy. This could be a long post.
On Tuesday I went on my long awaited trip to York, The Barley Hall and Bettys.

Barley Hall is set in York and to tourists it could easily be missed. It is situated between the busy streets of York, and reached by one of the longest and narrowest
snickelways of York
Coffee Yard. (being 220' long and 2'11" wide and only 5'10" high in parts)
Bizzarely Barley Hall was only discovered in 1980s when they were knocking down an office block. How can you loose a building! It has been fully restored and well worth a visit, especially since when you purchase a ticket it is valid for 1 year.
and After
So lets take a look in, and the costumes that I have so been looking forward to seeing
starring Cate Blanchett
This fabric photographed better than it actually looked. It was very sheer and a very open weave it was not as shimmery as in my photo The above photo is more like how it was. It reminded me of a dyed net curtain!¬
THE DUCHESS
starring Keira Knightley





A dupion silk with a very shabby chic look, all the rushing down the front were not finished off.



*****


On to my personal favourites






PRIDE AND PREJUDICE
Mr Darcy and Miss Eliz\abeth Bennett
SENSE AND SENSABILITY One of my favourites
starring Emma Thompson & Kate Winslet (rubbish picture sorry)
And this exquisite hat worn by the marvelous character Mrs Jennings (Elizabeth Spriggs)
PERSUASION
I Love hats this one from Persuasion (which I haven't seen yet)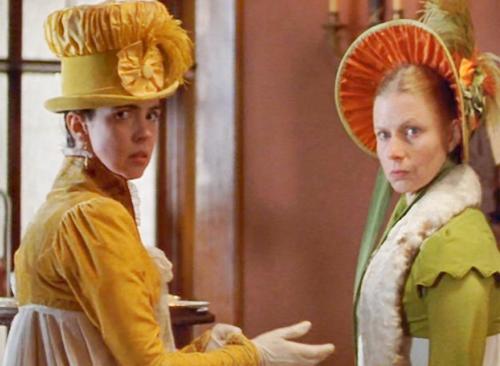 CRANFORD loved this series
Miss Matty played by Dame Judi Dench (who incidently came
from York)
this was such a simple elegant outfit
DOWNTON ABBEY dress worn by Dame Maggie Smith
You could also try on hats, which was great fun 

It all got a bit silly. We were noiser than the school visitors. Im surprised we didnt get asked to leave!
Afterwards it was on to Bettys, I have always wanted to visit Bettys but there is always a massive queue. As we didnt mind sitting downstairs we got seated quickly

It was all very grand. I felt very spoit.
It was a great day enjoyed with two good friends