Ive hit abit of a mental block with bra making so I put it aside until I can really focus on it properly.
Its my husbands birthday next month and I have decided to make him a shirt and trousers, (feeling a tad guilty at the amount of space my dressmaking is taking up in our small wardrobe)
Ive had a remnant of dark brown vintage wool suiting in my stash for a while now. Of course it was a bargain, hence the purchase £1.99, but it isnt my colour. So I purchased Kwik Sew 3267, and started making these trousers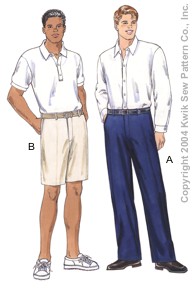 I was sewing away, feeling very pleased how easily it was coming together. The back has welted pockets, I checked and double-checked the positioning of the them sewed, pressed then stood back and looked at my handiwork. Honestly I dont know how this happened.
My first reaction was that the fabric had slipped when I cut it out, but on closer observation the left pocket is dipping on the outer edge, also the left opening is slightly smaller, about 1/4" inch. Of course because it is checked fabric,
everything
looks twice as bad, also if I made the opening bigger it would be on the outer edge where it is short, as the pocket is dipping this would make it worse.
From the top edge the darts are in line, Ive measured it all around N.B. Ive never used kwik sew patterns before, and I have never cut a dart open before.
I dont know if you can see this but the buttonhole below the welt (which I havent cut) is in line with the dart.
This is the left pocket, which as you can see dips more on the left, and is a little smaller, also not in line with the dart but the same measurement from inner edge.
I know I cannot unpick as experience has told me it would probably end up looking twice as bad. So the question I put to you is do I line up the buttonhole with the dart or keep it as it is, which is measured the same distance as the other. Also because the pocket is slanting the buttonhole looks the same, twice as obvious with the vertical lines of the check, any ideas. Should I omit the buttonholes altogether so as not to draw attention to the error, or would that look silly. Maybe the buttons would distract it all.
Yes I know that when they are made up they probably wont look as noticeable as they are now, laid flat and six inches away from my eyes, everything is visible. My husband cant see the difference, so he wont be too bothered. But I KNOW its there. Thanks in advance.